TURN YOUR LEADS INTO PAYING CUSTOMERS! JUST ADD "VIDEO"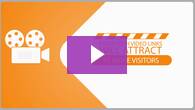 Did You Know!
• YouTube is the #1 video site
in the world, with 800 million
viewers per month.
(YouTube internal data, 2012)
• Advertisers who ran a YouTube
video campaign saw an
average increase of 20% more
traffic to their websites.
(YouTube internal data, 2012)
• 9 out of 10 viewers can be
enticed to watch video ads.
(YouTube internal data, 2012)